The all-new 2023 Honda CR-V will begin arriving in Honda dealerships this month, starting with turbocharged models on Sept. 22, followed by hybrid models in October. The 6th generation of Honda's best-selling SUV amps up the appeal to young and active buyers with two turbocharged trim levels, EX and EX-L, a rugged and sophisticated exterior, a sporty and modern interior and a more emotional, adventurous and fun-to-drive experience.
CR-V EX has a starting Manufacturer's Suggested Retail Price (MSRP)1 of $31,110 (excluding $1,245 destination charge). The hybrid-electric powered 2023 CR-V Sport starts at $32,450.
Completely redesigned CR-V sets a new compact SUV benchmark with bold styling, increased space, comfort and performance
New hybrid models feature an even bolder look and a new hybrid system for a sportier driving experience
CR-V is America's best-selling crossover since 1997
Turbocharged CR-V EX is exceptionally well-equipped with a starting MSRP of $31,110
"The all-new Honda CR-V raises the bar in every conceivable way - design, performance, safety and technology and the most fun-to-drive CR-V we've ever made," said Mamadou Diallo, vice president of auto sales at American Honda.
CR-V is America's best-selling SUV of the past quarter century and the best-selling Honda vehicle in every year since 2017.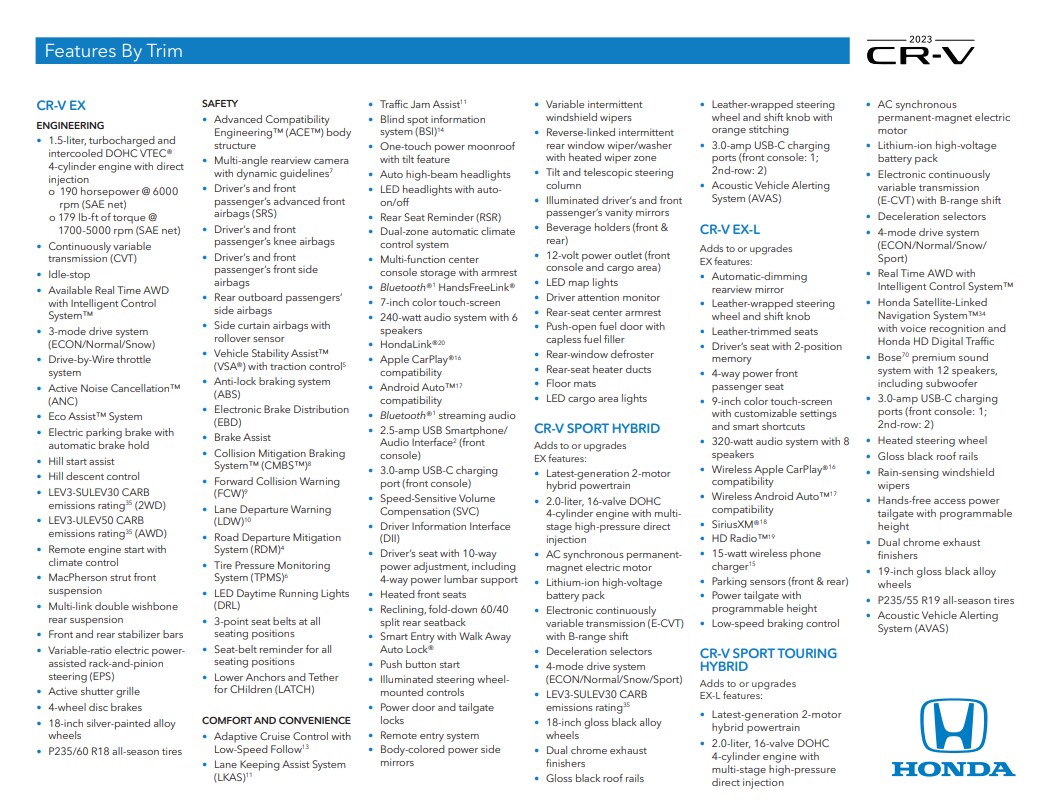 Reserve Your 2023 CR-V!
* Indicates a required field